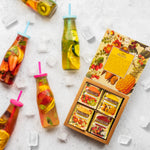 Summer is never complete without fruity flavours. The Basilur Magic Fruits Collection has been inspired by quintessential summer fruity flavours to bring together two summer essentials: fruity flavours and iced tea.
This collection presents a burst of natural fruity flavours along with pure Ceylon tea to bring you the true essence of summer staples such as zesty lemons, earthy ginger and luscious strawberries. Each blend in this collection has been curated with carefully selected ingredients to suit every mood and occasion. Stay with us as we explore each and every blend in this delightful collection! 
Basilur Magic Fruits Strawberry & Kiwi brings a blend of sweet, tangy flavours for those who are looking for a refreshing touch on a long summer day. Combining the bold flavour notes of Ceylon black tea along with the full-bodied, fruity flavours of strawberry and kiwi, this tea is perfect to be enjoyed as either a hot or cold brew. 
This tea brings a delectable concoction of Ceylon green tea with the rich flavours of natural strawberries. It is the ideal choice to add some flavour to your day, whether you enjoy it hot or cold. Not only will the green tea bring a rich, earthy flavour to your cup of tea, it will also deliver you its abundance of health benefits including its rich antioxidant content. 
A perfect medley of Ceylon black tea with rosehip and raspberry flavours to add a refreshing splash to your summer. This blend is not only rich in flavour, but it is equally healthy as well. The natural ingredients used in this blend ensures that all their health benefits including the antioxidants of black tea and the Vitamin C of rosehip are delivered to you. 
Enjoy a burst of tropical flavours in your cup of tea with the Basilur mango and pineapple black tea. This combination of summery flavours is the perfect option for a warm cup of tea with a dash of honey or to treat yourself with a cup of iced tea on a warm summer day. 
This blend is the perfect twist on a summer classic; lemon iced tea! The combination of high-grown Ceylon black tea with a smooth flavour together with the tangy flavours of lemon and lime makes this blend the perfect base for a lemon iced tea. It is sure to bring you a delightful experience of smooth yet bold flavours that are sure to add a taste that lingers in your palette throughout the day and add a refreshing touch. The zesty flavour and the exhilarating aroma of this blend are sure to add a pop of energy to your day! 
A perfect blend to add some spice to your cup of tea! The combination of natural ginger and Ceylon black tea is an age-old combination that has been practised for centuries. As a quintessential ingredient in Asian cuisine, ginger has been praised for years for its flavour and plethora of health benefits. This blend by Basilur revives this ancient tradition to help you enjoy this age-old flavour combination more conveniently. 
Treat your taste buds with the exceptional flavours of sweet red cherries and Ceylon's finest tea for a unique tea experience. This tea will bring you a sweet yet full-bodied brew that is ideal for a cup of iced or a hot cup of afternoon tea accompanied by finger sandwiches and English butter scones.
In this tea, you will find pure Ceylon black tea masterfully blended with the sweet tangy flavours of tangerine. It marries the world's finest tea with this summer favourite to bring you an unforgettable tea experience, ideal to be enjoyed with a chocolate dessert.
Make sure your pantry is stocked up with the Basilur Magic Fruits Collection to add flavour to your summer!