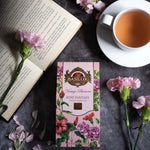 Fall in love with the perfect Valentine's Day gift - a warm and cosy cup of tea. Basilur presents a collection of teas that will elevate your regular cup of tea and make it a romantic experience.
Vintage Blossoms

Add a touch of nostalgia to your Valentine's Day with Basilur's Vintage Blossoms collection. Each cup of Pure Ceylon black and green tea is infused with delectable natural flavours, and the beautiful vintage packaging makes it the perfect gift for visiting friends and family.
Bouquet
What if you gave your loved one a bouquet of tea? Give the gift of a delightful green tea experience with Basilur's Bouquet! Masterfully blended with sweet, subtle flavours, it's better than a kiss. It's a sweet delight for your loved one's taste buds.
Tea Book
Immerse your Valentine in the rich Sri Lankan heritage with Basilur's Tea Books. Each range depicts its own unique story and offers a one-of-a-kind tea-drinking experience. The innovative blends and packaging transport tea drinkers to another time and place.
Music Concert

Serenade your loved one with Basilur's Music Concert green tea blend. The combination of Ceylon's finest black-leaf tea with flavours of mango, pineapple and strawberries creates a romantic brew that's perfect for starting a story that ends with "happily ever after."
Present 'Pink'
Treat your Valentine to the exotic floral scent and light fruity taste of Basilur's Present 'Pink' green tea blend. Made from the world-famous contoured tea gardens, it's a delicious and romantic cup of tea.
Floral Fantasy
Surprise your loved ones with Basilur's Floral Fantasy collection. Each beautifully luxurious tea blend contains Ceylon's finest green leaf tea and natural ingredients, making it the perfect gift for any occasion. Toast to life's precious moments with each cup!
Make this Valentine's Day extra special with Basilur's collection of teas. You can order now on our website and surprise your loved ones with the perfect gift.