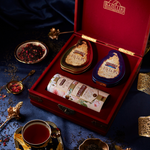 Tea is a timeless and cherished gift that is perfect for any occasion, whether it be a birthday, anniversary, or just because. But with so many options available, finding the perfect tea gift can be a daunting task. Fortunately, there are a few things to consider that can help make the process a little easier.
1. Think about them. Consider their personal preferences when it comes to tea, such as whether they prefer green, black, or herbal teas. This will help you narrow down your choices and ensure that you're getting something they will truly enjoy.
2. The size of the gift. Do you want to give them a single tea or a gift set? A single tea can be a great way to introduce someone to a new flavor, while a gift set can provide a variety of teas for them to try. If you're not sure which option to choose, consider their tea-drinking habits. Do they enjoy trying new things, or do they tend to stick with the same tea day after day?


3. Looks matter. Presentation is also key when it comes to selecting the perfect tea gift. Consider the person's personal style and whether they would appreciate fancy packaging or prefer something simple. Remember, the way a gift is presented can make it even more special and memorable.


4. Budgeting. Ah, yes. Don't we love being thoughtful about others but not about our wallet? While tea gifts can range from a few dollars to hundreds of dollars, you don't need to break the bank to find something special. There are plenty of great options available at a variety of price points, so you're sure to find something that fits your budget.
There you have it - sealed and delivered. Finding the perfect tea gift requires some thought and consideration, but it's a thoughtful gesture that is sure to be appreciated. By taking the time to think about the person you're buying for, the size of the gift, the presentation, and your budget, you can find a tea gift that is both thoughtful and memorable.
However, the perfect gift is as good as where you are buying it from. We may have a suggestion with regards to a tea gift! Basilur Tea is home to gifts worth giving. From tea bags to tea books, tea is always a lovely gift to give your loved one for any season. You can shop at our store here and get started with picking out one out of many thoughtful gifts.