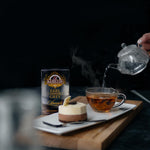 While everything we do at Basilur is driven by innovation, classics have always had a special place in our work. That is why our Specialty Classic range is one of our most celebrated teas with kaleidoscopic, intricately designed packaging reflecting the true art of drinking tea. This collection brings time-tested classic tea blends recreated with premium teas. So, let us take you through these classics and bring you a truly authentic tea experience.
English breakfast is undoubtedly the queen of all classical teas and one of the most popular teas across the globe. It is a full-bodied, rich and robust blend of black tea which is often enjoyed with milk and sugar. According to historical records, English breakfast was invented in Edinburgh in the 19th century and simply named "Breakfast Tea". It is known that Queen Victoria is behind popularising this blend all over England which subsequently led to the name "English Breakfast".
A classic cup of English breakfast tea is often accompanied with a hearty meal of sausages, eggs, beans and toast. So the deep flavours of this tea enhance and compliment the flavours of this meal. Basilur English Breakfast is a tradition which is being carried forward to reminisce about the delightful English meal and the glorious Victorian era. English Breakfast made out of pure Ceylon tea is a celebration of English charm together with the historic taste of finest teas on earth.
English afternoon is another classic tea with great historical importance. It is believed that this historic tea is a fashionable affair invented by the Duchess of Bedford, Anna Maria. It is believed that the duchess' household had a late dinner and she used to regularly get hungry around 4 in the afternoon. This led her to invent an "Afternoon Tea". Even today afternoon tea is considered a stylish and fashionable feminine affair which is a gathering of a group of people dressed in trendy attire enjoying the delight of afternoon tea.  
Since this tea is generally enjoyed in the afternoon to relax, it boasts a lighter flavour compared to English breakfast tea. This is a perfect tea with a mild sweet taste and orange in colour once brewed. Due to the time of the day this tea is usually served,  it is often accompanied by cucumber finger sandwiches, scones, petit fours which are a delightful dance on one's palate.
By now you may have noticed a pattern, that all these teas have a background story to them and Earl Grey tea is no exception. According to the legends, it was named after Charles Grey, the second earl in his line, who was also the Prime Minister to king William IV in the 19th Century. 
Over the years, many tea makers and enthusiasts have added their own twists to this classic and Basilur has yet again re-written the history of Earl Grey tea by combining the exquisite taste of Bergamot oil from the sweet, citrusy orange and pure Ceylon tea. This tea, once brewed, gives a smooth aroma and a soothing taste. It also brings an added kick of flavour compared to other more one-dimensional classics like English breakfast. 
Sencha is one of the, if not the most popular tea in Japan, representing nearly 80% of the tea produced in the country. It is also a symbolic tea which evolves from a great Japanese history.
This tea is known for its characteristic natural mild sweetness and refreshing taste reminiscent of the Spring. Once brewed it transforms into a mild golden yellow and tastes of grassy notes with a hint of sweetness. The pleasant grassy flavour of Sencha is thanks to the fact that it's freshness is preserved as it is steamed rather than pan-fried. 
Darjeeling tea originates from its namesake, Darjeeling or Kalimpong Districts in West Bengal. This tea grown under the Himalayan winds carries a unique flavour similar to French grapes. The unparalleled aroma and taste of this tea is the reason why it is dubbed the "champagne of teas". This tea is lighter and less astringent than most black teas, but more layered and complex than most greens.