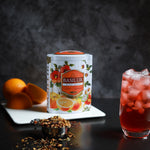 Fruit-infused iced tea practically screams summer, and is one of the biggest signs telling us that summer is almost here. No matter where you are in the world, when the temperature rises, nothing quite beats sipping a refreshing glass of ice cold tea to energise and revitalize yourself. Basilur's fruit-infused Ceylon iced teas are great because you can make them in a big batch and drink them throughout the week, or if you are like us, you can drink it all in one sitting! However, fruit infused teas are more than just delicious, and did you know that they are healthy as well? 

Before we continue, one of the most common questions we get asked is the difference between an infusion and normal black or green tea. Infusions are teas which have the base tea, typically green or black, mixed with the infusion of a particular fruit, flower, leaf or other natural products that could add flavour, taste and enhance the healthy benefits of drinking tea itself. At Basilur, the idea of drinking tea which benefits you in the best way possible is what we aim for. Touted to have its own share of antioxidants, infused tea is only going to give you better results, both health and taste wise!
So, here are some of the best health benefits that fruit infused tea can give you.  Firstly, fruit infused tea helps you get more nutrients into your body. When you prepare fruit infused tea, nutrients leak out of the fruit into the drink. This flavor-packed drink is rich in vitamins, minerals, phytonutrients, and antioxidants. It's a much healthier alternative to store-bought vitamin waters, energy drinks, sodas, and plain water.
 
Secondly, it's a great way of boosting your immunity and helping your body fight off diseases. Depending on the ingredients used, fruit infused tea may help lower your risk of diabetes, obesity, cold, flu, and heart disease. The natural compounds found in fruit help maintain body pH within the ideal range, which can also decrease your chances of developing cancer. 
 
Thirdly, fruit infused tea can help you stay and look younger! Fruit infused tea contains powerful antioxidants. Antioxidants are substances that can prevent or slow damage to cells caused by free radicals and unstable molecules that the body produces as a reaction to environmental and other pressures. They also increase collagen production, leaving your skin smooth and silky!

Fourthly, fruit infused tea can give your metabolism a big boost. The active compounds in fruit speed up metabolism, causing your body to burn more calories throughout the day. For example, lemon and lime, in Basilur's Lemon and Lime, is well-known for its metabolism boosting effects. This refreshing drink energizes your body and promotes fat loss. Fruit infused tea is also more filling and nutritious than plain tea or water. It also contains fewer calories and sugar than soft drinks. Some fruits suppress your appetite and reduce cravings. By drinking fruit infused tea, you'll have more control over your weight and feel full longer between meals.

As you can see, fruit infused teas are more than just a delicious and refreshing Summer drink. They contain numerous health benefits that a lot of us are not aware of. This is why Basilur's Tea Masters have worked tirelessly over the past few years to develop some of the best fruit infused Ceylon tea that has been introduced as Basilur's Magic Fruits collection! So, the next time you sip on your iced tea, remember, you are doing your body a favor too!