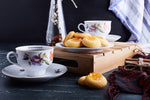 Since most of us are confined to our homes for the safety of ourselves and our communities, we've lost the opportunity to go out and spend time with our loved ones. But, there's nothing stopping you from creating some resemblance of normalcy with everyone that lives with you at home. So, we thought of bringing you an all-encompassing guide on how you can throw a high-tea at your own home and entertain the tea lover inside you! 
Get ready to par-tea
One of the most crucial steps to throwing your high-tea at home is setting the scene to truly make you feel like you are out with your friends, enjoying the luxurious setting of high-tea. There are a couple of things you can do to set the atmosphere for a high-tea. 
The first thing you could do to prepare for your high-tea is to dress your table of choice with a tablecloth. In our experience, we believe that floral or lace tablecloths ideally fit the theme of a high-tea. If you want a more playful, string up some buntings to decorate your surroundings. If you're feeling ambitious, you can even bake up some bunting biscuits as edible decorations. Another fun edible decoration idea is name place cookies where you can write the names of everyone attending with icing. You can then add a final touch with a bunch of flowers to add some freshness and colour to your table! 
Choose your tea 
Undoubtedly, the tea you choose will be the highlight of your tea party. Depending on the taste and preference of you and your guests, there is a wide range of teas you can choose from. Here are some of our favourites! 
Earl Grey - Earl grey is definitely one of the best black teas in the world. The tanginess of this tea will pair well with sweet treats like scones and shortbread cookies. 
Ceylon Black Tea  -  Quite possibly the best tea in the world, Ceylon black tea will be able to bring bold, rich flavours to your high-tea. Some of our favourite Ceylon tea picks for high-tea include; Nuwaraeliya, Orange Pekoe, Uva and Dimbula. 
Darjeeling - Dubbed the "Champagne of teas" Darjeeling can surely help to class-up your tea party.
Mint Tea - If you're hosting your tea party to break away from the monotony of staying at home and refresh, we think mint tea is your best pick! 
Green Tea - For some of us, nothing screams relaxation than a nice, warm cup of green tea. You can choose from a wide range of green teas such as oolong and sencha. Also, green teas with fruity notes can be paired well with fruit pastries and scones. 
Don't forget your snacks
What makes a high tea so special are the snacks that compliment the tea. There is a wide range of desserts and snacks you can choose to add flavour and variety to your spread. Here are some of our favourites; 
Scones - No high-tea is complete without scones! This English treat is light and perfectly complements your tea. Apart from classic scones, you can also add a twist to your tea table with fruit scones or nut-mixed scones such as walnut scones. 
Sandwiches - Apart from being one of the best savoury snacks for your tea party, sandwiches can also be a quick-fix if you're in a rush. The following are some of our favourite sandwiches to accompany your tea. 
Mini bacon, lettuce, tomato sandwich
Turkey tarragon tea sandwiches
Biscuits - Biscuits are another great snack to compliment your tea. You can even have your cookie dough pre-made so that you can quickly bake your biscuits in time for your tea party. Traditionally, shortbread cookies are an essential for any tea party. But, you can always be creative and put your own twist to ordinary biscuits with novel ideas such as millionaire's shortbread, ginger biscuits or red velvet chocolate chip cookies. 
We hope this guide helps you to plan an amazing tea party right at the comfort of your home and gain some resemblance of normalcy until the time comes when it's safe to go out and enjoy a luxurious high-tea with our loved ones again. Stay safe and healthy!