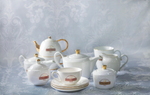 Did you know that the teaware you choose can influence your tea's flavour? It expands far beyond the teapots and strainers we use regularly.  So in this guide, we've prepared a list of essential teaware so you don't clutter your pantry and just have the essentials to prepare the perfect cuppa! 
Essential teaware to help you brew loose leaf tea

Teapots 
A teapot is essential if you are properly brewing a cup of tea - especially with loose leaf tea. Apart from its primary purpose of steeping tea, it is also used to add  a touch of elegance to tea ceremonies or tea parties. 
When you look at teapots in the market, there's a vast choice available. Everything from electric to ceramic teapots will help enjoy to get a different tea brewing experience. Depending on the material of the teapot, the types of tea you can brew and the water temperatures it can withstand can differ. However, some rules are universal for every type of teapot. Most importantly avoid using abrasive scrubbers to clean your teapot and never use dish soap directly. Mix the detergent with warm water to create a soapy solution before rinsing it off with a towel for best results.
When choosing a teapot, consider capacity (e.g., you might want to serve guests so it is best to purchase at least a medium-sized one) and material (preferably ceramic since it is the most common option for almost all tea drinkers).
Teacups
Another essential teaware is teacups. They usually come in sets with the teapot or a set of teacups. A teacup is more than a mere holder of your tea, it can preserve the warmth so you savour your beverage and enjoy the experience. 
Things to consider when purchasing: size (medium-sized cups work the best rather than small or large ones), material (preferably ceramic as it is always the selected material and is truly the best option), and make sure the design of the teacups matches that of the teapot so you can present them to your guests. 
Strainers

When it comes to brewing loose leaf tea, it is important to strain out the leaves after they have been brewed so that you don't end up with a bitter cup of tea. 
In order to find the perfect strainer, there are a few factors that must be considered: material and quality. A stainless steel strainer is optimal because plasticware may contain contaminants; this ensures you get nothing but the pure flavour of your tea in your mug. Another important factor for consideration when purchasing an infuser is the mesh size - how fine it filters out all residue from steeped leaves so that every sip contains only flavourful goodness!
Stirrers
Stirrers are important tools for making delicious tea. They help blend milk, sugar and cream (if you add any) or precipitated teas without leaving your cup of tea with an incomplete flavour when the ingredients aren't fully blended.
When it comes to tea, the right tools will make a world of difference. Whether you're hosting a formal tea party or just brewing a warm cup of tea for yourself, knowing how and what equipment to use can be challenging. We hope that this guide helped you to equip your pantry with the essential teaware to brew a perfect cup of tea. Happy brewing!