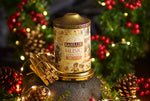 Winter and Christmas is getting closer and the holiday feeling is in the air. All the houses and shops are prepared and decorated to welcome this lovely time of the year. At Basilur we have begun our preparations for the season of giving as well! Drinking tea is a great way to treat yourself so why not turn it into a festive ceremony this festive season? At Basilur, we have a variety of the finest Ceylon teas that have a flavour which might remind you of the winter holidays and Christmas. Here are our top picks for the perfect cup of Basilur tea to keep you warm this Christmas!
One of the most well-known and religiously kept traditions of the Christmas season is the giving of gifts.The tradition of giving presents at Christmas has roots that go back as far as the Nativity story, whereupon the Three Wise Men gave gold, frankincense and myrrh to the baby Jesus. Keeping with this tradition, one of our favourite picks for the season is the Basilur Present - Gold. Enjoy the exquisite flavour of this range, an intriguing blend which is a mélange of pure Ceylon Leafy teas, exotic flower petals and so much more that gives it an exquisite taste. An excellent seasonal gift which will add to your festive mood with an aromatic and romantic experience.
It's hard to imagine a time when red and green weren't synonymous with Christmas! Basilur presents this colourful range of exquisite teas to celebrate the most joyful time of the year. Specially crafted to bring out the joy, love and spirit of Christmas, which unites friends and family to rejoice together. Basilur's Vintage Merry Christmas is an exceptionally well blended assortment of 100% Pure Ceylon black & green teas with the finest ingredients to make memories that will last forever. Another seasonal gift which you cannot go wrong with, and is sure to light up your mood with an aromatic and romantic experience.
Music is one of the most important parts of Christmas. Christmas music, usually in the form of carols is perhaps the classical music heard by the most people. There's nothing like the power of music to elicit the depths of human emotion, and there's nothing quite like the holidays to do the same thing, especially since the season comes with a playlist. Therefore, what could be better than the fusion of a perfect cup of Ceylon tea along with some classic tunes? On a chilly white night, enjoy the relaxation of winter and warmth of a cup of Ceylon tea Basilur's special Music Concert. This exclusive beverage captures the flavours of the season with an enticing blend of pure black Ceylon Tea. A fascinating cup by the fireplace anytime of the day! 
There's nothing quite as cozy as curling up with a cup of hot tea and a festive book on a winter night. If you love the festive taste of marzipan, Basilur's Tea Book Volume V is the perfect brew for your Christmas! The highest quality pure black Ceylon leaf tea infused with marzipan together with natural wolfberries and safflowers is a treat for the eyes and the palate. A tea which can be consumed as a compliment to sweet delights this Christmas. Savour each and every sip while you rekindle your relationships with your loved ones. 
Christmas is all about bringing your loved ones together. It is the season in which you get to spend some quality time with the people that matter to you the most. Whether it maybe catching up on what happened over the year that went by, or having a light hearted family chat on a frosty night, there is nothing quite like a cup of warm Ceylon tea to bring everybody together! Celebrate this magical time of the year where the world seems to be slower and peaceful, with pure Ceylon black tea leaves, natural barberries and natural rosehip shells. This is an ideal cuppa to keep you warm throughout the chilly winter!
With so much to look forward to, Christmas is always a very special holiday. It is by far our favorite holiday. We wish you all a very happy, healthy, safe, and fun Christmas this year! In case you are looking to spread some extra love and joy this season, surprise your loved ones with Basilur's Christmas range! Our gift to you this Christmas? A special 10% off all our Christmas products till the 1st of January 2020 to spread the Christmas spirit! 
Merry Christmas!