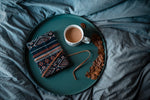 Gift giving is a worldwide tradition, yet it challenges many of us. Finding the perfect gift is hard. Most of us want to find the perfect gift for the special people in our lives, but have no idea where to begin. We purchase something we're sure will delight, but it doesn't, or we wait until the last minute and end up buying something in a panic. So, what is the perfect gift? Although finding a gift that makes everybody happy is next to impossible, we firmly believe that tea is the closest item we have to a perfect gift. Behind beautifully designed tea caddies, tea is a wonderful token of nature that gives so many benefits. At Basilur, we believe tea is like a self-assured and humble guest to your home, who carries a palatable personality - never too bold - and is at ease with first-time encounters. While it makes for a crowd-pleaser, tea at its best is a truly personal gift and a way into one's heart. So, here is what makes tea the perfect gift!
It is delicious
Let's begin with taste, because that's one of the most important aspects of any beverage. Premium Ceylon tea is world renowned for its excellent taste, with some tea connoisseurs liking it to the fineness of wine. Furthermore, there is now a variety of different flavours that you can purchase tea in, which means that you can personalise the tea you buy for that special someone. An experiential, sensory game of match-making: we like to think of gifting tea as a chance to trial your taste-buds in finding a flavor profile that best represents the person you are thinking of. From the delicate qualities of white tea, to the floral aromas of oolongs, onto bold and sometimes smoky black teas, there exist thousands of tea varieties, each with a character uniquely their own!
A sign that you care!
Tea itself has an abundance of health benefits, everyone, no matter what their situation, needs to focus on their own wellbeing. The Chinese have been drinking tea to bring wellness comfort since its discovery some thousands of years ago. Thankfully, a recent stream of studies has brought tea into recognition in the west as being excellent for our health. Antioxidants, vitamins, minerals, and much more are contained in tea like a Taoist legend speaks. To gift tea is a sign that you care about them and you have just made their daily approach to doing something good for themselves, that little bit easier.
It is the perfect gift to help your loved ones relax and unwind!
Tea awakens the mind, helps us to stay aware, and de-stress. The act of drinking tea helps us to stay "in the moment" and at ease, and tea itself contains theanine which promotes relaxation. It also improves concentration, alertness and fends off fatigue. Tea is soothing, relaxing and the ultimate stress reliever; which as we all know is part and parcel of maintaining beauty within and with-out. 
Basilur Tea Fact: Buddhism, meditation and tea are closely linked from ancient times in China and Japan. Those who practiced Buddhism were not allowed to eat or sleep in order to focus on their meditation practice, however they were allowed to drink tea. It helped them focus on their purpose, stay awake for meditation and it became a central part of their daily lives.
Tea helps you explore the world!
Tea is one of the best ways to discover the cultures of the world. Take for instance, a warming cup of Basilur Masala Chai, inspired by an Indian practice, this is an aromatic blend with rich, natural spices such as cardamom, cinnamon, nutmeg and ginger together with pure Ceylon black tea. It will take you through a celebrated journey of an old world charm. Ever-so humbly does this cup of tea carry an important artifact of India's colonial history. Much like India's favorite drink, there is a story to be told in each tea and an invitation to uncover or rediscover the world explorer within each of us.
As you can see, tea is truly remarkable and makes a thoughtful and caring gift to give to friends, family, and loved ones, and also to serve to guests or on special occasions or holidays. At Basilur, we truly believe that tea is more than just a beverage, which is why we have over 150 different gifting products! As always, enjoy!