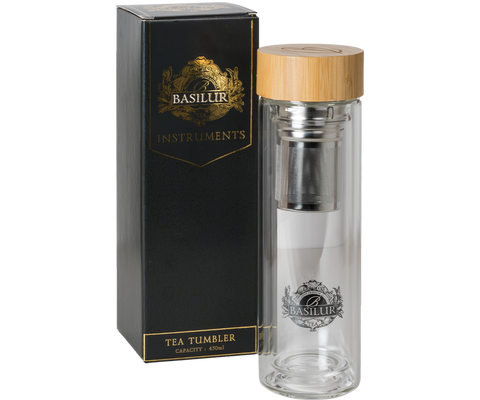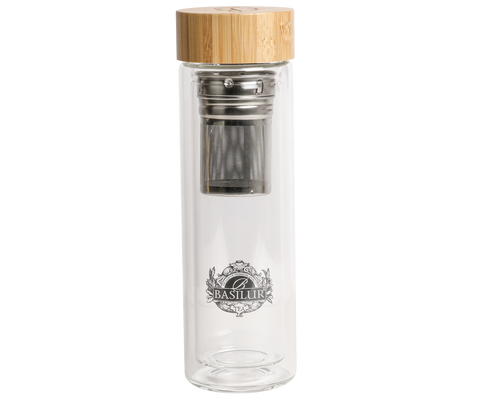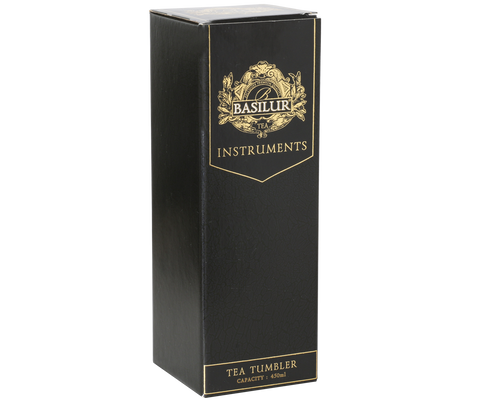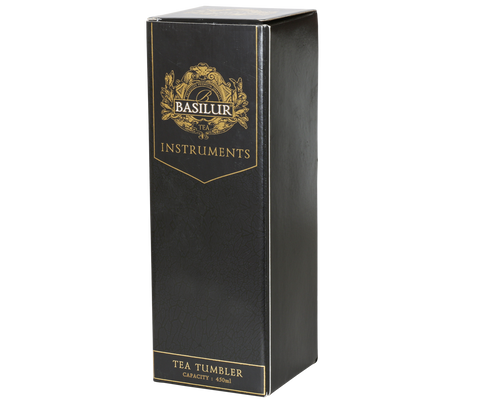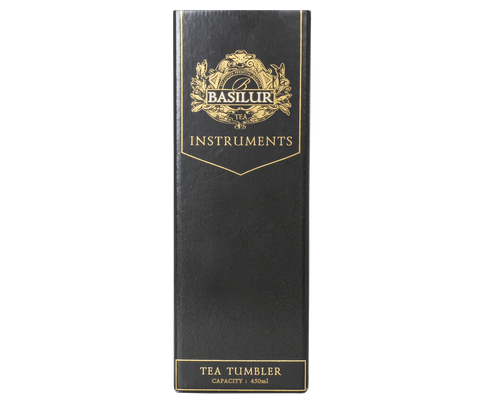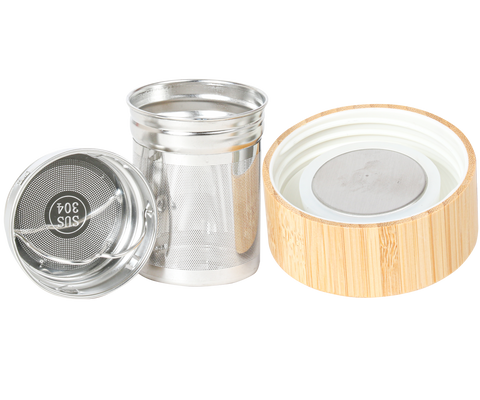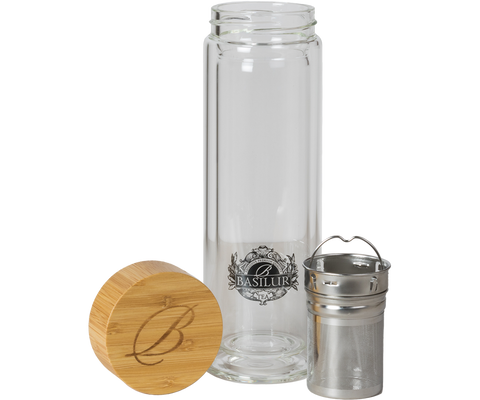 Basilur Tea Instruments - Glass Tea Tumbler - 450ML
Basilur double-walled high-quality Borosilicate glass tumbler with a bamboo lid, detachable strainer & infuser basket for loose leaf teas & infusions | 450ml
Special features: Borosilicate glass | Double-walled |Detachable stainless steel strainer | Dishwasher safe | Easy to clean | Easy to use | Travel cozy
Capacity: 450ml
Color: Transparent glass with a silver colour strainer & a bamboo lid
Materials: Double-walled Borosilicate glass | BPA-Free materials| Bamboo Lid
About the Basilur Tumbler:
Premium quality product – High quality Borosilicate double-walled glass tumbler withstands high temperatures and also fast changes in temperature. It also has an elegant brand engraved bamboo lid for a perfect finish.
Convenient, easy to carry tea solution – Ability to prepare both hot & chilled tea/infusions using loose leaf, tea bag or pyramid tea bag formats, whichever format you prefer. It's simply your choice!
Durability – High quality materials used for these tumblers will ensure a long term usage provided you take due care of it.
Safety & eco friendliness – All materials are of food grade. It is BPA free & free from any harmful plastic components, chemicals or toxins.
Cherishable moments – You can create your own tea moments with your loved ones at any place conveniently. Stay connected with them always.
Perfect Gift for tea & infusion lovers – Each of these high quality tumblers come with its own stunning packaging which is giftable to anyone. Couple this up with the favorite Basilur tea/infusion tin caddy of your loved ones & present a complete tea solution filled with love.
Preparation instructions:
Twist off the top strainer from the infuser basket.
Add loose tea leaves or infusion mix to the infuser basket then twist the top strainer closed.
Set the basket/strainer unit to the top of the flask and press down until it snaps gently into place.
Then you can pour hot or cold water over the strainer to fill the bottle and let it steep for the required amount of time.
Alternatively, you can also use a tea bag, by placing the tea bag into the bottle and securing the string of the tea bag with the strainer top only (without the infuser basket).
Allow the tea bag to drift within the flask while it infuses.
Savor the Sips of Satisfaction
What our customers say about Basilur Tea
Wonderful service and products. I saw a basilur tea Collection at work and ordered them for the whole family at Christmas. Was very appreciated!
Exceptional service, great products, quick shipping!
We love tea, the pure black one. The Ceylon tea that Basilur represents has high quality. The descriptions of each variety is very accurate. Even the metal thins can be collectibles. The service is superb, the shipping is prompt and trackable. We purchased from this site many times already, and plan to continue.
Amazing company! Tasty tea and such a beautiful design & package. Love my purchase.
The purchaser first sees the design of BASILUR TEA and purchases it. Then the perfect tasting tea. Black tea, flavored, green tea, non-caffeine, etc. Every tea is sure to be delicious. Also, you can drink deliciously no matter how you brew it. The food and dessert are a perfect match. Every year, new packages and new flavors come out, and even the design is perfect. Buyers, myself included, are very satisfied. I am captivated by the elegant design. Some buyers even use it for their interiors! I would like to continue to support BASILUR TEA as it continues to evolve. Thank you very much.