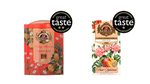 Basilur Tea is extremely proud to announce that two of our exceptional blends have won the Great Taste Award, and this is the third year running that Basilur Tea has been recognised at Great Taste! Our highly skilled research and development team work tirelessly to create unique tea blends that create a lasting impression and impact. We are excited to add this award to our fast-growing list of accolades!
Winning this prestigious award, open to any brand from any country in the world, is a true testament to Basilur Tea as one of the most loved brands in the world. In addition, the awards are judged by over 800 professionals who analyse 10,000 - 12,000 products annually based on multiple criteria to identify the best products in each food and beverage category. The 2 unique blends that were recognised for Great Taste are;
Vintage Blossoms - Citrus Bliss
The Vintage Blossoms Citrus Bliss product, which was launched just a few months ago to the international market, was hailed by the judges as a deeply aromatic dry mix. They found the wet leaf also carries sweet chamomile and zesty mandarin. The judges further noted that it was great quality of tea in the cup, with a gentle overlay of mandarin followed by a subtle lift from the chamomile. 
Wild Rose
The judges noted that there were tasty berry fruit flavours running through the character of this infusion with some gentle floral rose notes detectable. They further noted it as a zingy, fruity and floral tisane, with a pleasant combination of rose and red fruits (hibiscus, rosehips), which delivers both sweet, soft florals, and zingy fruit flavours, with a mouthwatering finish.