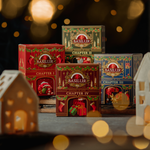 In this guide, we have pulled together the best picks from Basilur Teas to add warmth and colour to your holidays!

Christmas tea gifts
These festive teas made with pure Ceylon teas and your favourite Christmas flavours that are synonymous with the holiday season. 
Assorted Vintage Tea Collection             Christmas Tree
Evening of Noel - Chapter I                             Merry Christmas
 
Music Concert Christmas                               Tea Book Volume V
Winter themed tea gifts
In the social-distancing era, giving your loved ones a winter tea can be the best way to gift them warmth. 
Winter Berries Gift Box                                       Winter Ville
Story of Magic Volume III                            Tea Library Volume I
Classic tea gifts
When it comes to tea and holiday gifting, you can't forget the classics. 
Assorted Specialty Classics                        Ceylon FBOP
120 Tea Bag Wooden Presenter    Island of Tea + 60 Tea Bag Wooden Presenter
Oriental Collection Wooden Presenter        Silver Tips & Tippy Teas
Happy Shopping!