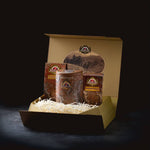 As a pioneer in the Sri Lankan tea industry, all our efforts are driven towards creating unique tea blends and creating authentic tea experiences with the best teas from around the world. Marking a monumental milestone in that journey, we are glad to announce that four Basilur Tea blends have been awarded at the Great Taste Awards presented by the Guild of Fine Food (GFF) for the second consecutive year. 
Winning this prestigious award, open to any brand from any country in the world, is a true testament to Basilur Tea as one of the most loved brands in the world. In addition, the awards are judged by over 800 professionals who analyse 10,000 - 12,000 products annually based on multiple criteria to identify the best products in each food and beverage category. The 4 unique blends that were recognized for Great Taste are;
English Breakfast
Recognised for its refreshing character and flavour, this blend offers a bright liquor with a coppery infused leaf. Due to its strong flavour, this tea is ideal for tea drinkers who prefer their tea black, but the judges consider it to be a good blend to be enjoyed with or without milk as it is still able to retain its character with milk. 
Caramel Dream
The judges dubbed this blend "a good marriage of flavouring and tea". Along with its freshness and bright appearance in a cup, this blend brings the perfect balance of caramel flavour to complement the black tea. The judges also made a special observation of the wide spectrum of caramel flavours in this blend including toffee, cream and vanilla. 
Uva Tea
Basilur's Uva Tea has generally been one of our customer's favourite blends across the globe from Russia to the United States to South Korea. Gifted with a bright cup appearance, our Uva blend works beautifully well with a drop of milk which enhances the rosy colour. It delivers a refreshing flavour!
The judges stated that the Uva blend was a really nice tea and of good quality, and described the liquor as bright and that it brings a freshness to the character of the tea. Further, the blend was recognised for its mellowness that gives it a smoothness and well-rounded taste.
Coconut Pineapple Cold Brew
The latest innovation from the Basilur family that took the market by storm during the summer was also presented the Great Taste Award. This refreshing summer blend is ideal to be brewed cold and the judges at Great Taste Awards recognised this blend for just that. They were also met with a pleasant surprise with the bright red hue this blend brings out when brewed. The flavour combination of juicy pineapple and creamy coconut in this blend produces a perfect balance of acidity and astringency. Apart from its flavour, the distinct coconut and pineapple aromas complement this brew very well. A great base for non-alcoholic summer punch - though a dash of rum suggests itself too!