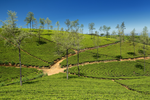 Sri Lanka, a tropical Island in the Indian Ocean has been known by the world by many names such as Serendib, Taprobane and Ceylon. The name "Serendib" gave the English language the word "serendipity" which meant "A welcoming surprise". Nevertheless, "Ceylon Tea" has undoubtedly been a key factor that helped to make "Ceylon" a household name across the world. 
Considering how successful the tea crop has been in Sri Lanka, it might be surprising to know that the birth of tea in Sri Lanka was purely accidental. It might even be correct to say that Ceylon tea was born from the death of the coffee industry in Sri Lanka. During the British colonial rule in mid 19th century Sri Lanka, they introduced coffee as a plantation crop to the Island. The coffee plantations in Sri Lanka only flourished for a few years before it was hit by a devastating disease and the whole coffee crop was destroyed. This was a catastrophe for the Island's economy because coffee was a key income generator. As a result, the colonial rulers were forced to look for an alternative. This is when James Taylor planted the first tea crop on just 19 acres of land called the 'Loolecondera Estate' close to the Hill Capital of Kandy. This became a stepping stone to an industry that changed the country's economy and culture forever. Other planters followed suit and by 1877, the first recorded shipment of tea was freight to England. Within the timespan of a decade, a new prosperous tea industry was built on the ruins of the coffee industry.
The trademark of Ceylon tea is its unsurpassable quality. This has also given birth to the premise that Ceylon tea is the world's "Cleanest tea". One of the key factors that contributes to the quality of Ceylon Tea is the unique hand-plucking techniques that are passed down through generations. This ensures that only the freshest buds are plucked. Commercial machine harvesting cannot guarantee this quality. These high standards have helped Ceylon tea to be on par with the best teas in the world and gain a firm grasp of the global tea exports. It has also one of the main pillars of the Sri Lankan economy by generating over 200 billion rupees in export revenue and providing direct and indirect incomes to thousands of Sri Lankans.  
Ceylon tea enjoys a tall reputation. From producing fine blends and flavours gained from a peerless environment of ideal climatic conditions that allowed a year-round harvest, the blend of weather, rain, mist and dry spells shared with hand picking has produced a range of distinct flavours. In Sri Lanka,  tea is grown in 6 distinct regions across the country. Namely, they are Nuwaraeliya, Kandy, Dimbula, Radella, Ruhuna and Uva. The different climates, altitudes, and soil types result in each of these regions producing a cup of tea that is distinct in character and flavour. 
Pure Ceylon Tea stands above the rest in all its glory! The hypnotising taste of pure Ceylon tea takes your mind far away from the stress of a routine day, just by the intake of a small sip of its divine taste. In Sri Lanka, people make a habit of drinking tea as often as they are permitted to, since a fresh cup of pure Ceylon tea is the drink everybody's mind desires. That is why the history of tea runs back to the famed past, where our proud royals experienced the best natural brew.
The tropical island provides the best fertile soil, flourishing the tea plants.  Giving us the ability to drink a few different varieties, like black tea, green tea, and white tea. Although black tea has been a part of Sri Lankans lives, from childhood to adulthood, black tea was never a choice but a must! Black tea with milk and sugar added is how Sri Lankans kick start the day, their evenings are also complemented with a warm cup of milk tea that cools you inside. Strong black tea is simply known as "plain tea" by the locals. They usually drink plain tea in the afternoon before their lunches, with some sugar in their hands to lick and sip. The simple practice is a relish to them. 
The combination of Ceylon Tea and tropical fruits of Sri Lanka gives rise to a range of blends that are rich and luscious (fruit flavoured tea).  Morning teas like Earl Grey tea have a continuous rise in demand which is why they are very popular. A distinct irreplaceable flavour is gained when Ceylon tea is used in the production which explains its high quality and delectable aroma.
The country's pride and joy, a tea that won't lose its reputation is highly taken care of. From carefully planted, harvested, produced, to packed, Ceylon Tea comes to your hand after much love and care. Ceylon tea stays true in our hearts and it is a great honour that we are able to consume it to this very day!