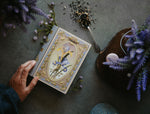 Time spent with your loved ones is filled with bright, beautiful, and happy moments. Be it with your family, friends or your significant other, spending time with someone that makes you feel good is a moment that you want to capture and store in your heart forever. 
Having a delicious cup of tea to compliment the moments you spend with your loved ones can help you build an association between the assuring feelings you feel when you spend time with them and your cup of tea. This way, even when you're by yourself, you'll be able to relive those sweet memories and feelings of spending time with your loved ones. 
Basilur Love Story Collection is specifically designed to help you open your heart to new beginnings of romance, love and unforgettable memories. This tea blend has been carefully designed with flavours that will vivify euphoric feelings such as bergamot, amaranth, coconut, pineapple, rose and almond paired with 100% Pure Ceylon Green Tea. So, whether you want to share the warmth with your significant other while you snuggle on a chilly winter night or share the pleasure of spending time with your family, Basilur Love Story is the perfect pick. What's more is that the Love Story collection makes for a perfect gift! Along with its alluring packaging and unique concoction of passion-inspiring flavours it makes for a great gift that will add an extra spark to the natural chemistry you share with your loved one. 
Basilur Love Story Volume I is a rich, flavorful blend that stirs up to a lovely cup of tea. This brew of Pure Ceylon Green Leaf Tea along with natural sunflower, cornflower, and bergamot is full of love and warmth. This special blend makes for a great refreshment whether you are enjoying the sunset with your significant other or catching up with your family. An unparalleled blend that brings you joy and lets you create a lifetime full of beautiful memories. This gift of love presented by Basilur is a perfect token of appreciation, a perfect blend and a perfect message of love with Ceylon's finest tea and Basilur's unmatched expertise.
Basilur Love Story Volume II, brings you a unique magical blend that connects your heart and soul with a phenomenal blend of sweet notes from pure Ceylon black leaf tea, green leaf tea together with natural Amaranth and the flavours of almond and rose will make you see the world as a glorious place of romance and make you feel like every sip is a fairytale. These mild, soothing flavours make this tea a perfect and subtle expression of love. Make each day a day of love and desire, as you savour each sip of this brilliant combination of Basilur's pure Ceylon tea,  the finest tea in the world.
Basilur Love Story Volume III brings you a lovely concoction of pure Ceylon green leaf tea, natural Amaranth and the delightful summer flavours of coconut and pineapple. The exotic flavours in this blend is sure to bring back memories of spending time with your loved ones in sunny beaches or make you feel like you are strolling through a tea garden in Sri lanka with the flavours of pure Ceylon green tea. If you and your significant other are fans of fruity teas, this is the perfect pick for you! 
The beautiful thing about love is that it brings us a medley of emotions. Similarly, tea also has the ability to evoke pleasant emotions by creating associations with the best memories of your life. So, next time when you want to treasure a moment with your significant other or want to get them a gift that they will always remember, the Basilur Love Story collection will be the ideal choice.