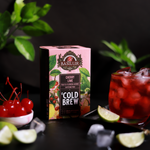 Our latest creation, the Basilur Cold Brew is another reflection of our innovative spirit and our mission to bring you truly authentic tea experiences. This collection was designed to make the experience of brewing an iced tea more convenient for you. After years of research, our tea connoisseurs were able to develop the perfect concoction of tea that can be easily brewed in cold water so that you don't have to go through the tedious process of brewing tea in hot water and cooling it down to make a cup of iced tea. 
We also didn't forget the fruity flavours that are a staple of any good cup of iced tea. That is why this collection boasts of fruit combinations you never thought will pair so well! The range consists of Guava Passionfruit, Cherry Lime, Coconut Pineapple, Orange Mango, Pomegranate Blueberry, and Strawberry Cucumber & Mint. Each tea bag contains natural fruits and herbs that burst out an incomparable flavour once added to cold water. 
They are also caffeine-free, so you can enjoy multiple cups a day to keep you going through. These refreshing beverages are ideal to keep you company as the temperatures start to rise. Hydration is well taken care of and ticked off from your Summer resolutions list!
Meet the Cold Brew Range
This brew is a delectable combination of the tropical, sweet, and aromatic Guava together with the delicious, soury, and citrusy Passionfruit. This unique blend that fuses sweet and sour flavours perfectly well can invigorate you in an instant and leave you feeling refreshed!
The Guava fruit gets its fair share of attention, but did you know that the guava leaf is also quite strong like the fruit itself. In fact it's rich source of Vitamin C helps with hyperpigmentation issues by boosting melanin production of the skin. Even skin tone from your Summer wish list is now well taken care of!
Ingredients: Hibiscus flower, Rosehip fruit, Guava leaves, Stevia leaves, natural Passionfruit and Citric flavours.
This infusion right here has a slight twist to that of usual summer classics. When two polar opposites like sweet and sour are mixed well together, it makes the perfect post workout thirst quencher! The brew brings you a Summer staple - Lime - along with the sweet goodness of Cherries to create the perfect balance between sweet and sour flavours. This infusion will truly be the Cherry on top of your Summer! 
Ingredients: Rosehip fruit, Hibiscus flower, Orange fruit, Orange leaves, Stevia leaves, natural Cherry, lime, and Citric flavours.
If you're missing a tropical Summer this year don't worry! Our Coconut and Pineapple cold brew will help you bring the tropical feels right to your home with its exotic flavours. Talk about a marvellous combination of two tropical delights the citrus notes of Pineapple go extremely well with slight nutty notes of Coconut. 
Ingredients: Hibiscus flower, Rosehip fruit, Orange fruit, Orange leaves, Stevia leaves, natural Coconut and Pineapple flavours.
Did you know?
Majority of these cold brew infusions have stevia leaves in them. Stevia is a natural sweetener and a great substitute for sugar. So you know these infusions are equally amazing without additional sweeteners!
Orange and Mango infusion is the perfect go-to iced tea combination for any day. The sweet and juicy tropical Mangoes, combined with the taste of fresh, citrusy Oranges for a tempting blend. It is capable of reviving your body and energizing your spirits with just a sip. You'd be surprised how a tropical Mango and a citrusy Orange go so well together when you try it for yourself!
Were you part of the group that thought mango leaves were inedible? Well turns out the leaf is one hundred percent edible and provides many benefits too! For instance mango leaves help lower blood pressure levels by relieving us from hypertension whilst strengthening the vessels.
Ingredients: Hibiscus flower, Orange fruit, Rosehip fruit, Mango leaves, Stevia leaves, natural Mango, Orange, and Citric flavours.
This is the ideal choice for times you want a summer refreshment that is a bit sweet. It harmoniously combines the tarty sweetness of fresh Pomegranate, with the fruity sweetness of Blueberry. A flavorful infusion that effuses bright berry notes and a naturally sweet note. Both these tarty fruits give off distinct flavour profiles that lingers in your taste buds for a long time and in the end you can't help but crave more. 
Punicalagin, a plant compound in Pomegranate, has an impressive antioxidant content. A measure of three times that of green tea! This compound is quite effective against chronic inflammation and keeps all diseases linked to it at bay.
Ingredients: Hibiscus flower, Pomegranate fruit, Orange leaves, Stevia leaves, natural Pomegranate and  Blueberry flavours.
Strawberry, Cucumber and Mint scream freshness. A cup of this will make you reminisce about a Summer Spa Day and relax right at the comfort of your home! On top of that, the sensational fruity goodness of strawberries will bring you reminders of the fresh harvest of the Summer. 
Cucumbers are the perfect addition you need in Summer! The fruit is made up of about 96 percent water content, and promotes hydration to an incomparable extent! Peppermint leaves on the other hand can improve energy levels, and also reduce the drowsiness that many of us experience during the day. 
Ingredients: Rosehip fruit, Peppermint leaves, Spearmint leaves, Hibiscus flower, Cucumber fruit, natural Strawberry and Peppermint flavours.
As Summer approaches it is the perfect time to stock up on these cold brews to accompany you for the Summer. Grab yourself a cup of iced tea and treat  yourself to the refreshing summer you deserve!