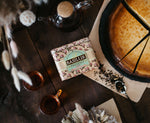 Basilur has been synonymous with momentous occasions in our lives, and Mother's Day is an occasion that stands out above the rest. Giving always feels good, but right now, sending someone a present, large or small, feels particularly so. With one of the most special days on the calendar coming up, we've thought a lot about what might make our moms, grandmothers, great-grandmothers, aunts, wives, sisters, friends, cousins, and, yes, ourselves, happy right now. Whether you are lucky enough to live with your mom or you're really missing seeing her, these are the presents we are sure are going to delight, distract, and indulge her!

Four Season's Tin Caddy - Spring


Basilur presents to you this four season's tea combining the goodness of Ceylon's finest teas. Warming your body and soul in chilly winters, picking you up on flowery spring mornings, celebrating the beauty of nature on bright summer afternoons and calming your senses as the leaves turn color during fall, these teas will fulfill every desire bringing out the best of all four seasons. As the weather gradually warms up and the flowers begin to bloom, this will be the perfect pick for the season! 
A delightful experience of special green teas masterfully blended with the sweet, subtle flavours of berries and cream and a light base of flower petals to create this range of Bouquet. These blends of green tea give you a cup of tea that is deep and rich, and imbibed in exotic flower petals for an aromatic experience. White Magic is a unique blend of Milk Oolong green tea, unmatched for its taste, sure to delight your mom!
Jasmine and Green Tea from our Fruits and Flowers Collection
With pure Ceylon green tea as the base, this is an amazing combination of flavor and aroma of jasmine flower petals. This produces a sweet cup with a light and lingering scent of fresh jasmine flowers. A healthy and refreshing green tea with a light and soothing cup. Smooth and mild, this brew can be consumed all day through. 100% Pure Ceylon green tea at its best for the best!
From the world famous contoured tea gardens, Present Pink delivers a green tea blend with an exotic floral scent and a light, fruity taste that is divine hot or iced! The flavours blend together to give you a cup of tea that is deep and rich, yet aromatic and flavourful.
Cream Fantasy contains pure Ceylon green tea - characterized by its mellow, pleasant flavor and rich yellow colour, achieved by gently steaming the leaves immediately after picking. A delightful experience of a very special green tea masterfully blended with the sweet, subtle flavours of berries enhanced with a mixture of cream flavours. Smooth and mild, this healthy brew can be consumed all day through and shows your mom that you truly care!
The Music Concert collection is an exceptional musical range enhanced with delightful tea blends that are harmonized to ensure an authentic unforgettable experience. Each blend has been created using the original recipes inspired by the life of Ceylon tea history. Here Ceylon's finest leafy teas exceed an amazing cup of tea from their exotic combination with flowers and fruits.
White Moon from our Oriental Collection
For many centuries black tea has been enjoyed as a warming, comforting brew and green tea as a refreshing thirst quencher. Harvest the pleasure of an ancient tradition with a steaming cup of Basilur tea! With the ancient Chinese tradition of Oolong Tea, comes this delightful blend of Milk Oolong Green tea with a distinct silky texture. The milky sweet aroma will leave your mom content with a smooth and sweet lingering taste.
Sencha Green Tea from our Speciality Classics Collection
Sencha green tea is a symbolic tea which evolves from aeons of Japanese history. Known for its natural mild sweetness and refreshing spring-like taste, once brewed it transforms into a mild golden yellow. A grassy note and a hint of sweetness in the finish are typical of green tea steamed in the Sencha style. Elegant and subtle in taste, perfect for enjoyment all day as a beverage that calms and rejuvenates one's senses, the perfect way for your mom to relax on her special day!
Wild Strawberry from our Magic Fruits Collection
Refreshing green tea with the taste of natural luscious strawberries is an ideal combination to lighten up your day. The fragrant Ceylon green tea is rich in antioxidants, while the taste of strawberries adds a subtle sweetness to the perfect brew. 
Strawberry and Raspberry from our Fruit Infusions Collection
In addition to being naturally caffeine free, this brew is fruity and delivers beautiful notes. An extremely health oriented infusion, our Strawberry and Raspberry blend can help reduce risk of cardiovascular disease while delivering nutritious vitamins that increase the quality of life!
That wraps up our top recommendations to delight your mom this Mother's Day! However, do not limit yourself, we have a wide range of other gifts than you can explore to make her day extra special! . As we race through life, we may miss out on spending some of our most treasured moments with her. After all, it's the little things that mean the most.  All that we were, we are, and we will be, we owe to her. She deserves nothing but the best.