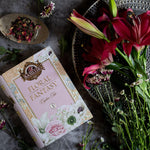 If you haven't noticed already, we are big fans of floral teas. So, this Spring, we thought of combining our love for floral teas with your favourite tea books to bring you a fresh Spring Collection. 
This beautiful, luxurious collection of thoughtfully designed teas brings you three unique blends with Ceylon's finest green tea with a blend of natural ingredients. Let's explore the three volumes of the Basilur Floral Fantasy collection. 
Don't let the weather get you down this Spring! This tea is the perfect pick-me-up for springtime. The refreshing blend of green tea, peppermint, hibiscus and rose is both invigorating and soothing. The tangy hibiscus pairs perfectly with the fresh peppermint, while the smooth green tea complements the light floral notes of the rose.  This tea is sure to become your new go-to when you need a little pick-me-up.
This luxurious tea is a delightful blend of Ceylon's finest green leaf tea with natural amaranth and marigold flowers, and a hint of lime mint flavour.  It's perfect for celebrating those special moments in life with someone you love. The refreshing and soothing taste is sure to please. It is also the perfect gift for any occasion - whether you're celebrating a birthday, an anniversary, or simply showing your appreciation.
The aroma of this tea will transport you to a happier time. Basilur's Floral Fantasy III expertly combines rose flowers with natural flavoured cherry that delivers a stunningly new experience of drinking green tea. Delicately floral with an amazing aroma, this luxurious blend is specially designed for those special celebratory moments in life.
This spring collection has something for everyone. Whether you are looking for a cup of green tea to relax with or a luxury tea to gift a loved one, we have got you covered. With three unique blends and Ceylon's finest green tea, this collection is sure to please.  These blends are perfect for any occasion and we can't wait to hear what you think about them!