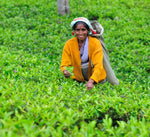 Since the early 1800s, the name "Ceylon" has been synonymous with tea. The history of Ceylon tea runs back to the British rule in Sri Lanka over two hundred years ago. The first recorded tea plant in Sri Lanka is when in 1824 the British brought a tea plant from China and planted it in Peradeniya's Royal Botanical Garden for non-commercial use. A few years later, more tea crops were brought down from Assam and Calcutta for experimental purposes. 
However, the actual birth of tea plantations in Sri Lanka came as the result of the death of the island's once successful coffee industry. In 1869, Sri Lanka's flourishing coffee plantations were grappled with a new plant disease named coffee rust. As a result, the coffee enterprise in Sri Lanka was wiped out in less than a decade. Thus began the mass cultivation of tea in Sri Lanka.
Scotsman James Taylor was the pioneer in starting commercial tea cultivation in Sri Lanka. What started as a 19-acre tea plantation in Loolecondera estate in 1867 by James Taylor, soon expanded to surrounding estates such as Mooloya, Hope, and Rookwood. After the establishment of the tea factory in Loolecondera in 1872, James Taylor was able to send the first shipment of Ceylon tea to the London tea auction in 1875. 
Once the formal exports of Ceylon Tea began, its popularity began to sore! This meant that there was more and more room for the industry to grow. As a result, the first Colombo Tea Auction was held in 1883. It is still considered the oldest and largest tea auction in the world. 
One of the main drivers of the Ceylon tea industry was the large demand from overseas. This meant that the export volumes of Ceylon tea grew exponentially.  By 1927, Sri Lanka's tea production exceeded 100,000 metric tonnes which were almost entirely dedicated for exports. 
As the tea industry in Sri Lanka grew, so did the infrastructure surrounding it. The upcountry railway system built by the British to transport tea to the establishment of the Tea Research Institute in 1925 were pivotal points in the growth of the Ceylon tea industry. This led to Sri Lanka becoming the world's largest tea exporter by 1965. 
The story of Ceylon tea started on a 19-acre land in Kandy as a part of a diversification experiment. Through the years, it grew into seven tea regions which include Kandy, Uva, Ruhuna (South), Udupusellawa, Nuwara Eliya, Dimbula and Sabaragamuwa. Today, Ceylon Tea satisfies 10% of the world's tea demand, treating both everyday tea drinkers and world-class tea connoisseurs.