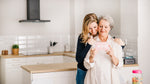 Sometimes we give gifts because we know the recipients will love and appreciate them. They dropped the right hints, we considered their tastes and interests and picked just the right object to wrap in that beautiful paper. Sometimes we give gifts out of obligation, choosing items from a registry that are predestined to be used, if not loved, or sending flowers because, well, flowers make people happy. And other times we scour museum gift shops seeking souvenirs that our loved ones are unlikely to treasure for more than a fleeting moment.
Giving always feels good, but right now, sending someone a present, large or small, feels particularly so. With one of the most special days on the calendar coming up, we've thought a lot about what might make our moms, grandmothers, great-grandmothers, aunts, wives, sisters, friends, cousins, and, yes, ourselves, happy right now. Whether you're with the mom in question all the time or you're really missing seeing her, these are the presents we are sure are going to delight, distract, and indulge her!
Rose tea is known for its aroma as its name may suggest. It contains rose petals giving it a lighter and more subtle taste, with a hint of sweetness and a stronger aroma. This combination creates a mesmerizing tea blend which offers an aroma similar to receiving a bouquet of roses, making it the ideal gift! From the misty mountains of Ceylon's western slopes comes this exquisite leaf. Traditionally known as Ceylon's answer to a perfect English tea, Basilur Dimbula tea is a golden colour with a delicate flavour and unique bouquet to make this one of the world's finest!
Another beautifully designed and high quality tea gift, just like its name, Basilur Exotic Tea is a connoisseur's delight that brings you a rich sensual taste and fantastic aroma that will linger on your palate. Dark, rich, high quality black tea that is delightfully infused with natural apple, mango, pineapple and rosehip, marigold and safflower will give you a piquant ripe taste! The bottom tin, from the exotic tea gardens of Ceylon's highlands, offer this extra flavourful leaf. Grown in the Eastern slopes of Ceylon's central mountains, tea from Uva district has quite a remarkable flavour and is famous around the world!
The personification of love, show your love to the mother in your life by sharing this amazing blend of Basilur's Love Story Volume III.  A beautifully designed exterior with the combination of Pure Ceylon Green Leaf Tea, natural amaranth and the delightful summer flavours of coconut and pineapple! This amazing blend of tea will transport you to the sandy beaches and the sunny Islands in the Caribbean with its flavours of coconut and pineapple. A perfect gift to make each day seem like a tropical holiday by the beach!
With pure Ceylon green tea as the base, this is an amazing combination of flavor and aroma of jasmine flower petals! Basilur's jasmine tea produces a sweet cup with a light and lingering scent of fresh jasmine flowers. A healthy and refreshing green tea with a light and soothing aroma and flavour. Smooth and mild, this brew can be consumed all day through, making it another great gift!
There it is, our guide to the perfect gift this Mother's Day. However, do not limit yourself, we have a wide range of other gifts than you can explore to make her day extra special! To show our appreciation to all the Mothers out there, we will also be offering a complimentary Basilur Gift and gift wrapping on all orders above $50!