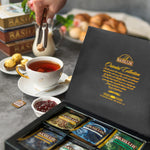 For centuries, tea has brought people together. That is why we believe that tea is often the perfect gift for any occasion. There is nothing like telling stories, catching up with friends or discussing a new taste experience around a shared pot of tea. Everything about tea is designed to help us slow down and enjoy life to the fullest, from beautiful handmade teapots and cups, to fresh aromatic tea that stops us in our tracks. The invitation to slow down, taste, connect with friends and enjoy is one of the most powerful gifts that can be given. The tea gifting culture encompasses a variety of different elements, so here are some of Basilur's hand picked reasons on why tea is a perfect gift!
When you gift tea, you gift good health.
A gift of tea is quite widely considered as a gift of good health. The Chinese have been drinking tea to bring health and wellness since its discovery several thousands of years ago. Furthermore a recent stream of studies has brought tea into recognition all around the world as being excellent for our health. Antioxidants, vitamins, minerals, and much more are contained within, and up to twenty two thousand other health properties like a Taoist legend speaks. What is important, is drinking a variety of fine quality tea regularly, and adopting it into a lifestyle regime in the name of good health! In many cultures across the world, gifting tea is considered as giving one health or long life.
A gift of mental focus
Buddhist monks discovered the secret power of tea during long hours of meditation as it helped them relax and soothe the mind. The secret is stored within a unique amino-acid in tea called L-Theanine, which works dynamically with caffeine to help our minds stay focused and awake. Matcha has been found to contain particularly high amounts of this compound and plays a leading role in mindfulness ceremonies such as Chadō in Japan. It is indeed for that extra push of concentration that we enjoy tea regularly throughout the day. Tea, a truly thoughtful gift!
Ignite the World Explorer within
Tea certainly grants us a way to discover the different cultures of the world. Take for instance, a warming cup of Basilur's Masala Chai that blends a mix of spices based on ancient Ayurveda and strong black tea inspired by the British tea time tradition. Ever-so humbly does this cup of tea carry an important artifact of India's colonial history. Much like India's favorite drink, there is a story to be told in each tea and an invitation to uncover or rediscover the world explorer within each of us.
Basilur Tea Master's Fact: Did you know that the origin of chai dates back more than 5,000 years, when a king in what is now India ordered a healing spiced beverage be created for use in Ayurveda?  Original versions of "masala chai," or "spiced tea," contained no actual Camellia sinensis tea leaves. The addition of tea, milk, and sugar were popularized thousands of years later when the British created the now famous tea-growing regions of India and popularized tea as a beverage.
Brings friends and family together
''Will you come around for tea?'' The spirit of invitation has always been a part of tea and it is a  common reason to gather at one's home. The Chileans do it effortlessly with their occasion to 'once', which ushers a gathering of family and friends to talk about their day. Free-flowing tea and a feast of cold-cut meats, cheeses, cake, and always a bowl of mashed avocado are taken for an evening snack, and not lightly. Taking inspiration from this beloved custom, the idea of gifting tea to give a reason to gather is beautiful, and has been a cornerstone in the tea gifting culture!
Seek the perfect match
An experiential, sensory game of match-making: we like to think of gifting tea as a chance to trial your taste-buds in finding a flavor profile that best represents the person we are thinking of. To begin, there are six tea types; from the delicate qualities of white tea, to the floral aromas of oolongs, onto bold and sometimes smoky black teas. There exist thousands of tea varieties, each with a character uniquely their own. In the end, it is a fun game that gets us creatively involved in gift-giving, and may we mention, a perfect chance to taste many teas!
The values of tea are the jewels of humanity: they pass from country to country, from generation to generation, from culture to culture, and across time. Patience; harmony with nature, with ourselves and with other people, respect, purity, tranquillity, punctuality and passion. All of these values help to build the culture of tea. Tea gives us an opportunity to cultivate these values to make a better world for future generations!