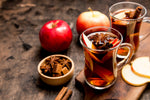 Fall is all about getting warm and cozy. So, today we're bringing you an interesting seasonal recipe! 
Apple and cinnamon are staples of autumn. This recipe bringing you today is adding a pleasant twist on a classic apple cinnamon tea. Add a splash of maple flavour to liven up this fall classic with the Basilur Autumn Tea. Grab this warm cup of tea, your favourite book, and get cozy! 
Ingredients you will need:
02 teaspoons of Basilur Autumn Tea
01 apple
02 cups of water
01 cinnamon stick
01 tablespoon honey or as required
Directions
Wash and peel the apple and then chop it into small pieces. Next add water, apple pieces, cinnamon, and tea leaves into a small saucepan. 
Let this boil on low heat for around 15 - 20 minutes. The water quantity will be reduced to about a cup of tea.
Strain the tea to a desired serving glass and finally stir in the honey.
Enjoy!