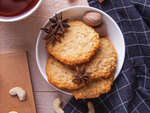 Here's something to warm you up: A masala chai-inspired sugar cookie recipe that adds heat to an evening snack of sugar cookies.
Ingredients

02 teaspoons Basilur Masala Chai
¾ cup hot water
¾ cup warm whole milk
02 eggs
01 cup whole wheat flour
01 teaspoon baking soda
½ teaspoon salt
⅔ cup fine brown sugar
04 tablespoons unsalted butter
½ cup crushed honey oat clusters / or plain roasted oats (optional)
Directions
Start by brewing the masala chai, pour hot water into the tea leaves and let it steep for a few minutes. Next pour in the milk and set it aside to cool down.
In a large bowl, sift together flour, baking soda and salt together.
Melt the butter and mix with the cooled tea.
Beat the sugar eggs until creamy and fluffy. Next fold in the dry ingredients, along with the tea mixture slowly. If using, add in the oats and mix everything together.
You will be left with a sticky dough. Use a tablespoon to get the perfect cookie size (note: they do expand in size). Place it on a greased baking tray leaving a 2 inch gap apart so the cookies won't stick together.
Bake it off at 325°F for roughly 25 minutes or until the bottom of the cookie has become crisp and has turned brown while the top remains soft and slightly risen.
Cool completely before serving. Store in an airtight container in the refrigerator for up to a week. Happy Baking!