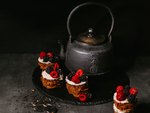 If you're a tea lover, these tea cakes will bring you a tea experience you've never had before. They are great to be served with afternoon tea or for Sunday brunch. 
Our favourite tea cakes are made with Earl Grey tea because it makes the perfect fit for a cake because of its rich sweet and tangy flavour notes culminating from the bergamot orange oil added to the black tea to create Earl Grey tea. 
Here's our tried and tested recipe for a rich, buttery, flavourful and soft tea cake! 
The Earl Grey milk makes up the base for the rest of the recipe. Here are the ingredients you need for the Earl Grey milk. 
Bring the tea and milk to a boil in a small pot over medium to high heat. Once the milk starts boiling, turn the heat off and let it steep for 10 minutes. Then, strain the milk and tea mixture out to one cup. Top up with more milk if needed. 
The next step is making the cake mixture. You'll need the usual mix of ingredients you use to make a cake batter. 
Ingredients 
2 ¼ cups of all-purpose flour

1 tablespoon of finely ground Earl Grey tea 

3 large eggs at room temperature

2 tablespoons of baking powder 

¾ cups of unsalted butter at room temperature 

¾ tablespoons of salt 

1 ½ cups of caster sugar 

1 ½ tablespoons of vanilla extract 

1 cup of Earl Grey milk at room temperature 
Instructions 
Preheat the oven to 350F. 

Grease and flour three 6" cake tins and line them with parchment.

Whisk the flour, baking powder, salt and tea until they are well combined and set the mixture aside. 

Use a stand mixer with a paddle attachment and cream the butter and sugar together until the cream becomes light yellow and fluffy. Then, reduce the speed and add eggs one at a time to the same mixture to fully incorporate all the eggs into the mixture. Once done, add vanilla. 

Next, alternate adding the mixture of dry ingredients and Earl Grey milk, starting and ending with the dry ingredients (Ideally, three portions of the dry ingredients and 2 portions of the milk). Make sure to fully incorporate all the ingredients to the mixture after each addition. 

Add the prepared mixture equally into the 3 tins and bake for 35 minutes. Insert a toothpick and see if it comes out mostly clean. If not, bake for additional 5 minutes. 

Once done, cool the cake trays on a wire rack for 10 minutes and place the cakes on the wire racks and allow the cakes to cool completely.