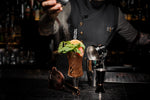 An Earl Grey Tea seems much more refreshing with some alcoholic notes in it isn't it? 
Clink your glasses to an exhilarating cocktail made with Earl Grey Tea and a few household ingredients.
The ingredients are calming and soothing, with the caffeine and alcoholic spirits included, it stirs up to an ultimate perfection. A cocktail that is mild yet energising makes it totally worthy to sip.
Be it in the morning to give you a vitalising boost to kick start your day, in the evening when nature is calm, or even on your dinner whether it is a home date or a date to yourself. 
Step by step directions
First things first, brew your tea. Make it big so you have some extra in your refrigerator to whip up for whenever you feel like it.

Make a simple honey syrup by heating honey and water, stir until it has fully dissolved.

Add gin, lemon juice, honey syrup, and your tea in a cocktail shaker with ice, and give it a good shake.

Strain to your desired choice of glass and add in a lavender stem as a garnish and you are good to go!
Simple wasn't it?
The fruity notes of gin goes very well with the lavender Earl Grey Tea. 
Must-have spirits for your next tea cocktail party
Rum

Whiskey

Vodka

Bourbon
Tea types that complement well with these spirits
Black Tea

Rooibos Tea

Fruit Herbal Tea

Green Tea
Tea cocktails is a big trend nowadays! The bold flavours are different from one another, and they all taste amazing! 
Tips to keep in mind
Cooling your honey syrup is crucial, as soon as you make it put in the refrigerator to cool down.
When your cocktail shaker is cold, you know it is time to stop. 
Keep in mind the quality for your spirit affects your cocktail. Good spirit, better cocktail.