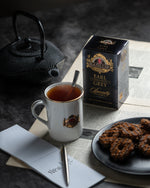 Creating unique blends and taking the best of Ceylon tea to the world is at the heart of everything we do at Basilur. In that journey, we get the honour of being recognised for our efforts in our endeavour to create authentic tea experiences for tea lovers around the world. To that end, we would like to humbly share the news of 4 Basilur blends being recognised at the Great Taste Awards presented by the Guild of Fine Food (GFF). 
The Great Taste award is an annual event organised to recognise and reward the most unique creations in the food and beverages industry around the world. Since its inception in 1988, the Great Taste award is organised and presented by the Guild of Fine Food (GFF) managed by the family of its original patron, Bob Farrand. What's most significant about the Great Taste awards is that it is open to any brand from any country in the world. Therefore, this award is truly a testament of a brand being the best of the best! Adding to its credibility, the award is presented based on the judgements of over 800 professionals who analyse 10,000 - 12,000 products annually based on multiple criteria to identify the top players in each food and beverage category. 
The Basilur blends recognised at the event

Basilur English Breakfast is one of our best-sellers both at home and abroad. It is a staple in any tea collection with flavourful, brisk, and malty profile. We make this classic blend with pure Ceylon black tea plucked from the high regions such as Dimbula and Nuwaraeliya where the weather conditions create the perfect environment to grow tea that brings rich flavours that English Breakfast requires.
English Breakfast tea with a dash of milk and sugar is the perfect companion for your breakfast. This will also let you experience a lavish English meal from the wonderful Victorian era. Apart from the award-winning tea bags, this product is also available in 100g loose leaf tin caddies. Click here to shop. 
Earl Grey is a favourite among tea connoisseurs around the world. The light flavour notes comparative to its big sister English Breakfast tea, makes this blend a delightful afternoon tea. The Basilur Earl Grey blend is made with tea from lower regions such as Rathnapura which carry lighter flavour profiles. These subtle flavors together with the citrus flavours of Bergamot oil makes a delectable cup of tea. This complex flavour profile also means that it does not necessarily require an extra dairy element. You have the choice of enjoying this product as tea bags or in 100g loose leaf tin caddies. Click here to shop. 
Basilur Autumn Tea is a perfect representation of our efforts to bring variety to your cup of tea by creating unique blends that bring you the district flavours of different seasons. This blend also goes in line with us aiming to help you create associations between your favourite memories and your cup of tea by incorporating memorable flavours and scents to our blends. This is a blend infused with the familiar Autumn flavours of Maple with the finest Ceylon black tea to bring you a smooth, silky taste with a calming aroma.  As the leaves turn into earthy colours of red and yellow, the cool breeze that surrounds us, cheers to the special blend of Autumn in a cup. Apart from the tea bags, this product is also available as loose leaf tea in our 100g tin caddies. Click here to shop. 
Another blend that beautifully illustrates Basilur's quest to incorporate flavors of fruits and flowers from nature with the finest Ceylon Tea. Basilur Cream Fantasy is a delightful concoction of pure Ceylon Green tea with berries augmented with cream flavors. This particular blend brings you an aromatic and light-flavored taste profile creating a romantic experience. You can also try this product in our 100g loose leaf tin caddies. Click here to shop.   
We believe that by bringing you an array of flavours blended with pure Ceylon tea, is the best path forward to creating authentic tea experiences for tea lovers all over the world. We are extremely thankful for the Guild of Fine Food (GFF) for recognising our efforts in this quest to reinvent the global tea industry.