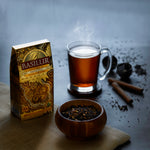 At Basilur, our goal is to always bring you an authentic tea experience. Over the years, we have understood how highlighting and representing flavours from all over the world in our blends is a significant part of bringing that mission to life. The Basilur Oriental Collection is one stepping stone of this journey. This collection was designed to highlight what we thought were the most vibrant and distinct tea flavours from Asia. As the host to some of the largest tea producers in the world, Asia boasts many rich cultures with tea at the heart of them. From Masala Chai enjoyed on the roadsides in India to Persian Earl Grey enjoyed by the royals, the tea flavours across Asia weave a beautiful story of flavour, culture, history and human connection.  
Join us as we take you through a flavour journey across Asia with the Basilur Oriental Collection. 
Basilur Magic Nights brings you an invigorating cup of tea that will tantalize your taste buds and leave  your soul refreshed. This exquisite blend of Ceylon Black Tea together with natural fruits and herbs is sure to be beyond your wildest imaginations and bring you a truly fine tea experience.
A Chinese favourite, milky Oolong Green Tea brings you silky smooth flavour notes  that will leave a sweet flavour lingering in your mouth for hours.  This is definitely a perfect pick as a palate cleanser after a meal.
"Masala Chai" translating to "Spicy Tea" is a must-have in traditional Indian tea culture. This is an aromatic concoction of spices such as cinnamon, nutmeg, cardamom, black pepper and ginger along with Ceylon Black Tea and is sure to be a favourite, especially if you love some spice in your tea! A sip of this exquisite blend will take you wandering through a journey of old world charm.
This blend is slightly different from the rest of the blends present in this collection. It is made from Pure Ceylon Green Tea and Moroccan spearmint to  cleanse your palate and lighten our mood. The aroma of this blend is noteworthy making it definitely worth trying.
This special brew is made from a distinct range of Ceylon Black Tea from the lower elevations of Sri Lanka known as 'Ceylon FBOP Extra Special' where occasional 'silver tips' appear in the blend and a hint of honey taste with a mildly sweet note. The combination is sure to leave you energized and refreshed throughout the day!
Imagine yourself in the Persian royal culture with this blend of Ceylon Black Tea and natural bergamot essence. A fine blend that not only stirs up to a lovely cup of tea but brings a touch of royalty to this classic tea. 
There's no doubt that a warm cup of tea is the perfect thing to complement a chilly day. Drinking this blend of Ceylon Black Tea together with cornflower and natural flavours of passionfruit & orange with your family and friends will bring so much warmth to keep you cozy throughout the Winter.
This blend of Ceylon Pekoe Tea will guide you straight to the rich  Sri Lankan tea culture. The richness of this truly extraordinary blend is the perfect representation of the deep tea flavours enjoyed across Sri Lanka. 
This blend exemplifies a classic Ceylon Green Tea that is notable for its incomparable taste. If you are looking for a light brew to balance  your palate after a meal, this is the perfect pick. 
Rich and diverse blends along with tastefully designed packaging make the Basilur Oriental Collection an unparalleled assortment of colourful Asian flavours that will help you to experience rich cultures without ever having to visit those countries!