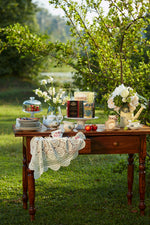 For us at Basilur, Spring is always a time of celebration with our colourful blends. Whether you are looking for a cup of cold-brewed tea to cool down on a sunny Spring afternoon or to serve your loved ones on a lovely Spring picnic, there's a cup of tea waiting for you. Here are some of our top picks for Spring! 
Floral Teas
We cannot talk about Spring teas without mentioning floral teas. Our floral tea blends are made with a bouquet of the finest flowers such as Roses, Jasmine, Lavender, Cornflower, Hibiscus and Chamomile. The petals, buds and blossoms of these flowers are chosen depending on the tea to add different textures, flavours and aromas to the blend. These delicate teas are not only good to add colour to your cup of tea, blends like Chamomile tea are widely popular for their medicinal use as well. Many of these flowers carry calming properties as well as antioxidants that will surely help you to get that Spring glow! 
Basilur Bouquet Collection and Vintage Blossoms Collection brings you an assortment of pure Ceylon tea blended with sweet, subtle flavours of fruits and flowers. So, you know where to look for your selection of floral teas.
Fruity Teas
These teas are a great reminder of the fresh fruit harvests nurtured by the warm Spring sun. The great thing about fruity teas is that you can either choose light, subtle blends or rich, strong blends depending on your taste. Our fruit teas, blended with the best Ceylon Black teas are the perfect choice for a cold brew on a warm afternoon! Not only will they add flavour to your Spring, but they will also bring you an early reminder of Summer. 
The Basilur Magic Fruits Collection brings you an assortment of everything from classic fruity teas like Lemon & Lime to innovative concoctions like Raspberry & Rosehip. 
Green Tea 
Greenery and blossoms are definitely the first things that come to your mind when you think of Spring. So, Green tea is another Spring must-have in our books. The light flavours along with the floral notes can be the perfect way to energize during or after a warm Spring day.
The great thing about green tea is that you can choose from a variety of strengths and  flavours depending on your taste. If you are looking for an energy boost, a strong cup of Sencha is your best bet. On the other hand, if you are looking for a cup of green tea to slow down with, you should turn to an Oolong tea with its light flavour.
White Teas
We are firm believers that Spring should be celebrated with delicate flavours and what's more delicate than a cup of white tea! This one-of-a-kind tea is made with the youngest tea leaves and very gently processed. The smooth texture of this tea makes it a favourite among tea connoisseurs. White Tea from our Chinese Collection is one of our favourite white tea picks. It's one of the most superior teas in the world and makes for a perfect way to treat yourself or gift a loved one!