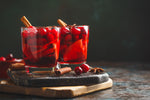 Ingredients
3 cups of filtered water
4 teaspoons of Basilur Winter Berries Cranberries Tea
1 cup of frozen cranberries
2 cinnamon sticks
2 cups of sugar (or to taste)
1/2 cup orange juice
2 tablespoons lemon juice

1 . Combine the water, winter berries tea, cranberries and cinnamon in a pot and bring to a boil. (edited)

2. Then reduce the heat and simmer for 13-15 minutes until the berries pop. Stir when needed.

3. Remove the mixture from the heat and remove the cinnamon. Next, strain the mixture and return the strained liquid to the pot. Add in the sugar, lemon juice and orange juice. Heat until the mixture comes to a boil and serve warm.