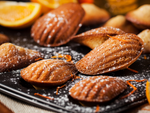 Madeleines have been a delectable tea snack for centuries. So, we thought of adding our own zesty twist to this classic snack with our Citrus Bliss tea from our Vintage Blossoms collection. Let's get started!
You will need
Madeleines:
10 tablespoons of butter (divided)
02 eggs
½ cup of granulated sugar
01 teaspoon of vanilla extract
½ teaspoon of orange extract
01 tablespoon of orange zest (finely grated)
01 cup of all-purpose flour
⅛ teaspoon of salt
½ teaspoon of baking powder
Glaze:
2-3 tablespoons of Basilur Citrus Bliss (brewed and cooled)
¾ cup of powdered sugar
Directions
Start by preheating your oven to 350° F or approximately 175° C
In a small saucepan melt 08 tablespoons of butter over medium heat and set aside to cool
With a hand mixer or stand mixer, beat together eggs and sugar until it is light in colour. Next add vanilla extract, orange extract, and orange zest and beat once again to gain a smooth and fluffy consistency
In a separate medium-sized bowl whisk together flour, salt, and baking powder until well combined and no lumps remain
Add half of the dry ingredients to the wet and using a rubber spatula carefully fold the ingredients in. Then repeat the process with the remaining dry ingredients
Add the melted butter all at once and mix to just combine
Melt the remaining butter 02 tablespoons of butter and brush the madeleine tray 
Using a tablespoon evenly distribute the batter among the madeleine moulds so you get roughly around 12 madeleines in total
Bake it off for around 10-15 minutes or until a toothpick comes out clean
Let it cool down for 5-10 minutes in the tray itself before taking them out gently to cool completely
Once cooled whisk together powdered sugar and 02 tablespoons of brewed tea. If the consistency is dry and lumpy feel free to add the remaining tablespoon of tea until it reaches the desired consistency
Drizzle over cooled madeleines and enjoy it right away
Happy baking!